Announcing the upcoming release of our first book:
Dear Me, Writers in Idaho Prisons Reach Out to Their 12-Year-Old Selves
On September 10, 2022!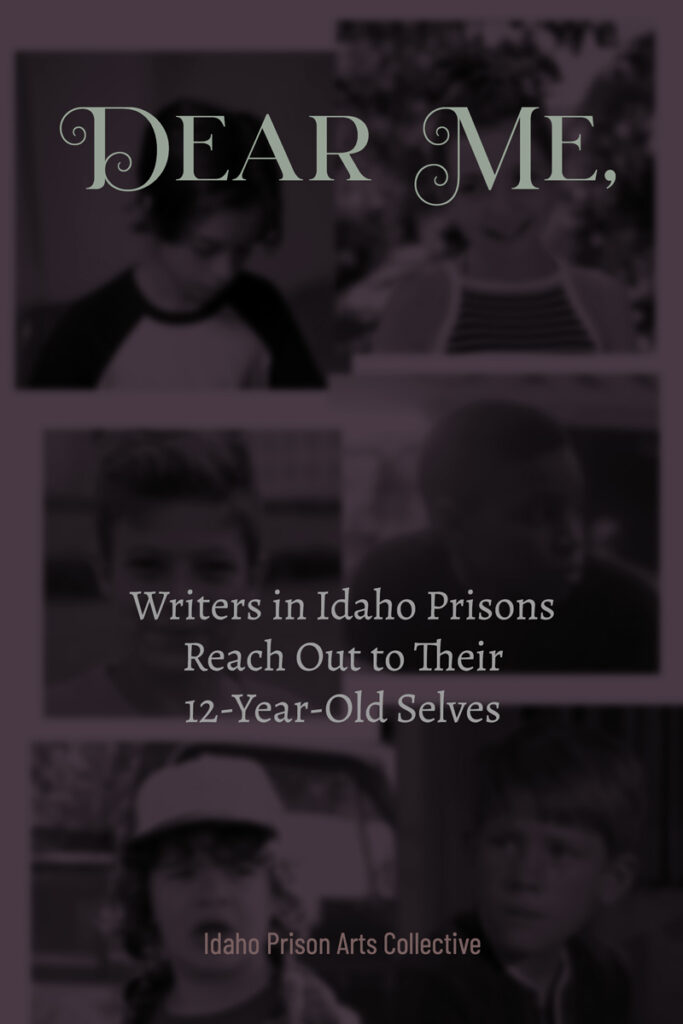 This book started out of the blue with an exercise in a creative writing class at Idaho State Correctional Institute, or ISCI — or what insiders call "The Yard". The prompt was: Pretend that for the next ten minutes, a magic portal going back in time has opened such that you can write a letter to your twelve-year-old self. The results were fascinating, touching, and wildly diverse.  
Everyone in the class was so tickled by the exercise that one student, John McIlhiney, decided to give the exercise to guys in a support group he was facilitating, and he sent us the results the next week. Again, the variety of stories and approaches was utterly fascinating and compelling. From there, we decided that this would have to go big, so we floated the idea of an IDOC system-wide writing contest to a teacher I knew at a prison in Orofino, Idaho — David Manley. With David's assistance — including working with the Idaho Attorney General's office to draft a release of intellectual property for each contributor to sign — we sent the invitation to educators throughout Idaho's prison system in the winter of 2021, who then distributed flyers to residents.
For adults, it seems, one's twelve-year-old self offers a kind of bridge to the heart. At that age, our intelligence and awareness of the world is budding and receptive to complexity, but we're still kids, too, still open to imagination and possibility. So how do we address that kiddo? How will they know that it's us writing?
From the beginning, we thought that we should publish all the entries as a book, and that each writer should receive a copy for free. By the end of January, 2022, we had 50 entries. These entries were given to 10 judges, each of whom assessed the pieces on five criteria, on a scale of 1-5. From those scores, we ended up with eight winners: three top winners (in no particular order), and eight runners up (one for each criteria). Those winners were  as follows: 
TOP WINNERS
Ryan Phillip McNally
Corbin Moyer
David Steece
HONORABLE MENTIONS
creativity/originality: Sean Amador
heart/vulnerability: Ryan Harrell
wisdom/advice: Travis Tanner
humor: Halton Flowers
writing/language: Steven Anderton
The winners, besides receiving packet of items from IDOC, also received a copy of Natalie Goldberg's classic work for writers, Writing Down the Bones. Congratulations to all the winners, but also to everyone who entered for having the heart and determination to travel back in time.